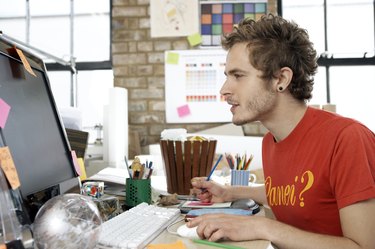 If you record or download a video file and discover that the file appears sideways when you play it back, you haven't lost the footage. Even video that was recorded with the wrong orientation can be fixed. You can change the orientation in a video file using a few different applications. You can also use these programs to flip a right-side-up video in a different direction for dramatic effect. Mac and Windows operating systems require different solutions to this challenge.
Step 1
Use SimpleMovieX to fix orientation in a video file. SimpleMovieX for Mac systems has an interface that resembles Mac's native iMovie, which gives regular iMovies editors a head start in learning the new program. According to the SimpleMovieX website, SimpleMovieX can flip video either 90-degrees clockwise or 90-degrees counterclockwise, allowing sideways footage to flip upward or vice versa.
Step 2
Download and install BitPlayer to your computer. Another Mac program, BitPlayer includes the tools to flip a video's orientation for playback in the "Window" menu and then export the corrected video file as an MOV movie file or another standard video file type.
Step 3
Install Turn Clip to Mac's native iMovie video-editing program. The Turn Clip add-on for iMovie adds video orientation features directly to the iMovie interface. To access the feature once Turn Clip is installed, go to the "Edit" option above the preview window in iMovie and then click the "Video FX" tab.
Step 4
Get Free Video Flip and Rotate to fix the orientation in a video file. Free Video Flip and Rotate works only on Windows systems, and contains some of the most advanced tools for flipping video files. Once you load a video file into the Flip and Rotate system, you can select any of the seven video orientation options, which include horizontal, vertical and even diagonal.
Step 5
Fix the video orientation in Windows' native movie editor, Windows Movie Maker. Once you have the video clip loaded into the project and on the timeline, access the video orientation tools from the "Tools" menu and "Video Effects."