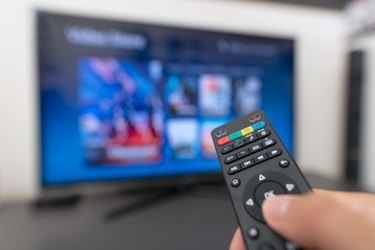 Optimum cable customers are provided with a cable box and remote control as part of their subscription. It's not difficult to replace an Optimum cable box or cable remote, but you may be charged a small fee. Before contacting customer service, there are a few things you can try to repair an Optimum remote that's not working.
Repairing an Optimum Remote
Before you replace your remote, Optimum suggests that you install fresh batteries. If the remote still isn't working, make sure it's paired to your television and programmed correctly. The Optimum cable service supports two types of Altice One remotes and three Optimum remotes. Each has a slightly different method for programming channels. Check the Optimum website for details about remote control programming.
Repairing an Altice One Remote
The Altice One remote has more advanced capabilities compared to Optimum remotes. It uses Bluetooth to connect to the Altice One box, so you don't have to point your remote at your cable box to make it work. The remote also allows you to use voice commands to control the Altice One cable box. If you know the remote's batteries are good, problems could be related to a lack of Bluetooth connectivity. Make sure your remote is paired to your cable box before trying to replace it.
Controlling TV Power and Volume with Optimum Remote
In addition to allowing you to control your cable box, each type of Optimum remote lets you control the power and volume on your TV set rather than requiring you to use your TV remote. If your Altice remote volume is not working, it could be related to your television brand. First, you need to find your TV brand in the list of Altice remote codes on the Optimum website and then use the code to identify your television brand to the remote. The codes and instructions for entering them are available as part of the programming instructions for each remote.
Using Optimum App as a Remote
If you've temporarily misplaced your remote and don't want to replace it, you can download and install the Altice One app on a table or smartphone and use it as a replacement remote. The app provides access to Optimum cable services for subscribers. Besides allowing you to control your television from a smart device, the app allows subscribers to watch broadcast and On Demand programming as well as manage DVR content and watching it on the go.
Returning an Optimum Remote for Replacement
If your Optimum remote is still not working after you've replaced the batteries and made sure it's paired to your television and programmed correctly, you can return it to an Optimum store and receive a new remote.
As of 2019, the company charges $2.50 to replace an Optimum remote that's been damaged or lost. The charge for a lost or damaged Altice remote is $10, but there is a one-time free replacement. Canceling your Optimum cable service without returning the cable box or remote may result in a replacement charge, but there is no service charge for a replacement if the remote breaks through no fault of the subscriber.