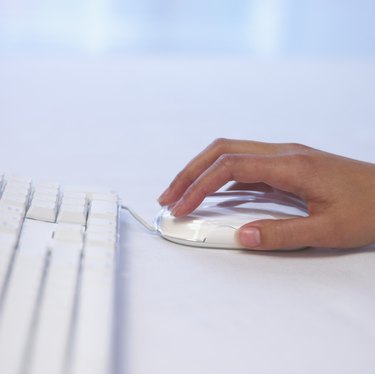 Using a laptop is as efficient as a desktop computer to complete tasks, use the Internet and talk with friends on a daily basis. If your laptop's mouse cursor disappears, there are various tricks and solutions available to help get your mouse pointer back to resume your work and current computer tasks within minutes. And this can be accomplished without the use of software applications or advanced computer skills.
Step 1
Press "Ctrl" + "Alt" + "Delete" and choose "Task Manager" if your mouse pointer becomes available, pressing the keys simultaneously. This will allow you to close any open programs that may be causing issues with your mouse pointer.
Step 2
Plug in an external mouse to allow the computer to attempt to find the device, prompting the mouse pointer to appear – which may solve the problem or allow you to temporarily work with a mouse pointer.
Step 3
Reboot your computer by pressing and holding the laptop's power button for a few seconds. This will reset your laptop's current open settings and most often allow your computer's mouse pointer to reappear.
Step 4
Upgrade your laptop's video and graphic card drivers (if available) to ensure the mouse pointer disappearing or flickering is not a hardware issue. Select "Start" > "Control Panel" > "Hardware and Sound" > "Device Manager" to view your current graphic and video settings. Visit your device manufacturer's official website to download the most current version of your drivers.