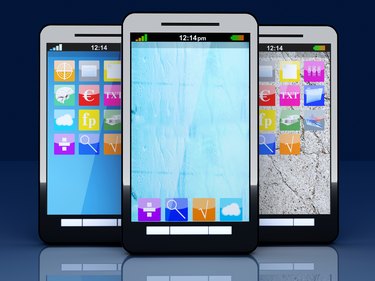 Your Android-power tablet computer comes with a good number of pre-installed applications, but there are still hundreds of thousands of games, widgets, apps and books out there that you can download and use. Android Market is a place where Android developers can present their applications and Android users can go to find them. Load Android Market onto your device, then search for and install apps.
Step 1
Press the "Applications" button on your tablet's screen. The location of the button varies based on the type of device you have, but is generally on the bottom of the screen or along the top edge.
Step 2
Swipe your finger across the screen to scroll through your installed applications. Tap the "Market" application once you find it. If you are not already signed in to your Google Account on the tablet, enter your Google username and password here, then tap "Sign In."
Step 3
Tap the magnifying glass at the top of the screen to start searching for an application. Type the name of the app using the keyboard that appears on the screen. A list of search results appears beneath the area you are typing. Tap the result that corresponds to the application you are searching for.
Step 4
Touch the "Install" button at the bottom of the app's page. A list of access rights appears, instructing you on which areas of your tablet the application will need to access. Tap "OK" to continue. You are taken back to the application's page while your app is downloaded in the background. The app is available for you to use when you see a "Successfully installed" message at the top of the screen.
Tip
If you don't have a specific app in mind, tap the "Apps" or "Games" tabs once you load the Market in order to search for all the available apps. You can also search for concepts instead of just application names. For example, a search for "puzzle" returns a number of puzzle-based games, including many that don't have the word "puzzle" in their titles.