Your Canon printer's device drivers are programs that configure your computer to work with your Canon printer. When you first install your printer on your computer, the device drivers are installed along with any peripheral programs from the installation CD. As Canon updates the drivers for your model or you update the software on your computer, you may find that you have to install new Canon printer drivers without the help of the installation CD. Canon provides the drivers for download at its website.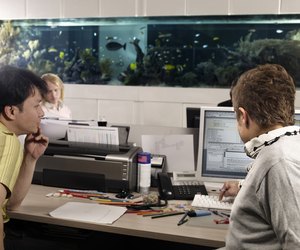 Step
Bring up the Canon Support website on your computer's Internet browser. (See Resources.) Input your Canon printer's information. Click the correct model from the list.
Step
Click "Drivers & Software" from the box in the middle of the page. Select your computer's operating system from the drop-down menu. Double click the EXE file that applies to your version of the operating system. Click "I agree" on the next page to begin downloading it.
Step
Double-click the EXE file you downloaded from the Canon website when the download is finished. Click "Run" when Windows asks if you want to start this program. Click "Finish" when the installer program indicates it is done.