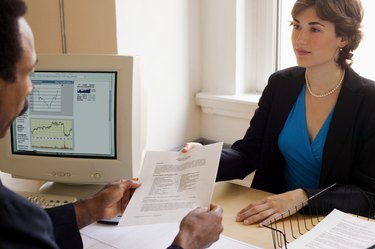 Microsoft has built its programs while making sure you can share information from one application to another seamlessly. This applies to using Outlook Calendar and Excel. If you want to link your Outlook Calendar to your Excel, you can do it in two ways. You can export your Outlook calendar to Excel or import your Excel files to Microsoft Outlook. Both processes are easy and only take a few steps to accomplish. By doing this, you can easily use the records in your calendar in both Microsoft programs.
Exporting Outlook Calendar to Excel
Step 1
Open Microsoft Outlook and wait for its main screen to fully load. Click on "File" from the menu at the top of your page and select "Import and Export." Click on "Export to a file" on the following page before selecting the "Next" tab at the window's bottom.
Step 2
Select "Microsoft Excel" from the programs list and click on "Next." Click on the "Calendar" folder from your options list on the following page before clicking on "Next" at the bottom of your screen.
Step 3
Type your chosen name for the calendar file into the text box. This will be the filename for your calendar in Excel. Click on "Finish" at the bottom of the screen to start linking your calendar with Excel.
Importing Excel Files to Outlook Calendar
Step 1
Customize Excel by examining your calendar section in Outlook. Customize the fields in Excel to match with all the information on Microsoft Outlook. For instance, when importing appointments, Outlook provides information on the name of the appointment, location, subject and time. Title the columns of your Excel spreadsheet to match the Outlook information.
Step 2
Save the data after you complete your spreadsheet. Choose the rows and columns that contain the exact information you wish to import and include column headings. Type the name referring to your selection at the left side of your address bar, and press "Enter." Go to the process of saving the data. Exit Excel after saving.
Step 3
Open Microsoft Outlook by double-clicking on its desktop icon. Import the information by going to the "File" menu and selecting "Import and Export." Click on "Import from Another Program or File" and select "Next" before clicking on "Microsoft Excel 97-2003." Click "Next" to start locating your file.
Step 4
Click the "Browse" button and locate the Excel worksheet that you saved in step 2. Select the spreadsheet and click "Next." This will show the available folders that you can import into Outlook.
Step 5
Highlight your Calendar option and choose "Next." You will find a summary of what you selected reading "Import [filename] into folder: calendar." The [filename] represents the name of the spreadsheet that you made, such as "meetings" or "addresses."