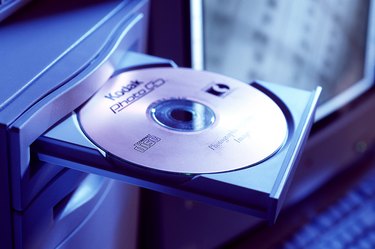 Having a bootable CD on hand is the computer equivalent of keeping bottled water and canned food in your basement--you may never need it, but you'll be thankful you have it. A boot CD allows the user to run diagnostic tests on a system that will not load the full operating system--either due to virus attack or fatal system error. The CD loads before the operating system and hard drive, running the tests directly from the disc. This way you need not worry about perpetuating the problem. With the release of Windows 7, Windows (finally) added the ability to natively burn ISO images, making the process extremely easy.
Step 1
Download a bootable CD image. Some sites offering free ISO images include UltimateBootCD.com, BootDisk.com and Hiren.info (see Resources). Many antivirus companies offer boot CD images as well. Save the ISO file to your desktop.
Step 2
Insert a blank CD into the computer's CD burner.
Step 3
Double-click the downloaded ISO (after the download completes). Windows 7's Burn Disc Image options dialog will appear.
Step 4
Select your CD burner from the "Disc Burner" drop-down menu. You have the option to enable "Verify," which will check the integrity of the disc after the burn completes. Click "Burn" to begin. Once complete, you have a fully bootable CD.
Things You'll Need
Windows 7

Blank CD

Boot CD ISO image
Tip
For earlier versions of Windows, you will need additional software to burn the bootable CD images to a physical disc. Applications capable of doing this include Roxio Easy CD/DVD Creator, Nero Burning Suite, Alcohol 120, MagicISO and ISO Recorder.