Microsoft Word 2013 offers label creation and mass mailing features, enabling you to design and create mailing labels of any size. To create address labels to mail to multiple recipients -- called a mail merge -- you need to provide Word your contacts' addresses in some form -- for instance, use your Outlook contacts or create an Excel spreadsheet with your contacts. Most applications allow you to export data as a comma-separated-value file, which you can then provide to Word during the mail merge.
If you need to print a small number of addresses, you can enter the information while you perform the mail merge; data entered this way is saved for future use.
Things You'll Need
Address label sheets, such as those made by Avery or Office Depot

A printer to print the label sheets

Create Your Labels
Use Word's Mail Merge feature to create labels to mail to multiple contacts.
Step 1: Start the Mail Merge
In a blank Word document, select the Mailings tab and then Start Mail Merge in the Start Mail Merge group. Choose Labels from the drop-down menu.
Warning
Be sure the document is blank because Word deletes any content during the label creation.
Step 2: Set Up Your Labels
In the Label Options dialog, choose these options:
Printer information: You can probably retain the default settings here unless your printer is a continuous-feed printer rather than one that prints individual pages or you have multiple paper trays.

Label vendors: Select the vendor from the Label vendors drop-down box and then choose that vendor's product number, for instance "5160 Easy Peel Address Labels," a common Avery product.

If your product is not listed in the Product number drop-down list, choose a product that you think is similar and then click either Details or New Label to open a dialog in which you can customize page size, margins, labels size, and more.
Step 3: View Your Labels
Click OK to set up your labels and then OK again at the prompt warning you that any contents of the document will be discarded.
You may not see any change to your document at this point, but Word has created a table to define your labels. To see the lines defining the labels, select the Layout tab, and choose View Gridlines from the Table group.
Set Up a Mail Merge With Your Address List
Step 1: Prepare Your Data File
Before using Word to set up a mail merge, make sure the file containing your addresses contains the information you want.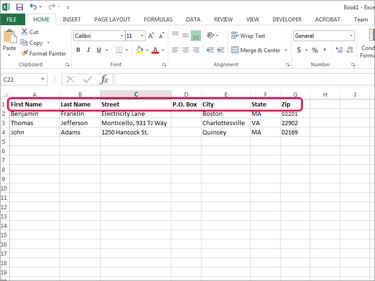 If your addresses are in Excel, for instance, be sure that your Excel document contains columns with complete address information.
If your addresses are in Outlook, check your contact information to ensure that it looks the way you expect.
Step 2: Choose Your Recipients
Choose Select Recipients from the Start Mail Merge group on the Mailings tab. Here, choose to either:
Type a new list: Use this option if you have no data source and you plan to manually enter the names and addresses during the mail merge.

Use an existing list: Choose this option if you have a file containing the names and addresses. This can be an Excel or Access file, or you can use another type of data file such as an HTML or Word file containing a single table, or any text file with fields separated by tabs, commas, or other characters.

Choose from Outlook Contacts: This option enables you to select specific contacts from among your Outlook contacts.

Tip
If you don't intend to print labels for your entire mailing list, select Edit Recipient List and select just those contacts you want.
Step 3: Add Mail Merge Fields
Word doesn't automatically intuit how you want your labels designed, so the next step is to create a placeholder to define where the addresses should appear on each label. While you can select individual fields such as name, street address and city to display on your labels, Word provides a basic address block that includes address basics.
Select Address Block in the Write & Insert Fields group to open the Insert Address Block dialog. Here, customize how the address should appear, such as the format for the recipient's name and whether to insert the company name.
Tip
Select Match Fields to customize the mapping if the address Preview does not look the way you intend.
Step 4: Format the Text
To customize the font used for the address text -- if Word's default Normal font doesn't display well, for instance -- select the field <> on your label sheet, being sure to select the chevrons "<<...>>" as well. In the Home tab, customize the font as necessary.
In most cases, you will also want to reduce the spacing between the lines when you are printing address labels. Open the Paragraph dialog by clicking its drop-down arrow and then adjust the spacing in the Spacing section.
Step 5: Update the Labels
When the label formatting and fields are set up, click Update Labels from the Write & Insert Fields group. This propagates the <> field to all labels on the sheet.
Preview and Print the Labels
Step 1: Preview the Merge
Select Preview Results from the Preview Results group under the Mailings tab. Use the right and left arrows to view additional pages. If the text requires further formatting, click Preview Result again to deactivate the preview and then reformat as necessary.
Step 2: Complete the Merge and Print
Choose Finish & Merge in the Finish group to complete the mail merge and print the labels.