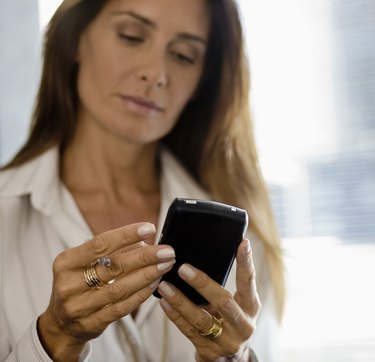 A Short Message Service (SMS) message is also known as a "text message" because it is similar to an email but a lot shorter. An SMS template is a ready-made SMS message that is used to make sending text messages that have the same content easier. Basically SMS templates allow senders to save time and avoid having to type the same data over and over again. iPhones don't have SMS template capabilities like other phones do, but it is still possible to create an SMS template for your iPhone without using a third-party application.
Step 1
Press the "Notes" app on your iPhone. The "Notes" app comes standard in every iPhone and is on the device's "Home" page by default.
Step 2
Press the "+" symbol on the top-right corner of the screen to start a new note.
Step 3
Type in the message that you want to create as an SMS template and then press the "Done" button on the top-right corner of the screen.
Step 4
Press anywhere on the screen and the keyboard will appear, press a second time to get the text menu and then press "Select all" to select all the text within the note.
Step 5
Press "Copy" to copy the text and then press the "Home" button at the bottom of your iPhone to exit the "Notes" app.
Step 6
Press "Messages" to open the SMS app and then click the "Compose" button on the top-right corner of the screen to compose a new text message.
Step 7
Press into the text bar twice and then press "Paste" to paste the message from the SMS template you created.