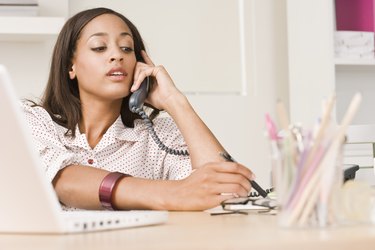 Verizon phone service exists in many parts of the country. If you have Verizon phone service, Verizon will send you a bill once a month for the charges you incurred. Pay this bill to keep your Verizon phone service working optimally and without interruption.
Step 1
Choose a method to pay your Verizon phone bill. You can mail a payment to the address on your Verizon phone bill, pay over the phone, pay online or visit a Verizon store that accepts payments in person.
Step 2
Pay the bill by mail. Inside the envelope you will find the bill listing your charges. At the bottom of the first page you will find the bill stub to return to Verizon. Remove the bill stub, make out a check or money order for the amount due and put both the bill stub and the payment in the envelope that is provided with the bill. Make sure to write your account number on your check and ensure that the Verizon address shows in the envelope window.
Step 3
Pay your Verizon phone bill over the phone. Call the number listed on your Verizon bill and listen to the prompts. One will ask you if you wish to pay a bill. Select this prompt, using your telephone keypad. Follow the prompts by entering your Verizon account number and other information when prompted to do so. Have your credit card ready since you will need to give the automated system the information from your card, including the credit card number, expiration date and security code on the back of the credit card. Alternatively, use a check over the phone. Provide the bank routing number and bank account number to the automated system. Make sure you copy down the confirmation number the system provides as proof you paid the bill.
Step 4
Visit the Verizon billing center online. Choose the link for paying your bill. You will have to set up an account if you are a first-time user. Follow the prompts to set up an account by entering your name, phone number and other information requested by the system. Click "Finish" when you have filled out the page. Select "Pay my bill" from the provided options. Now enter the information, such as credit card number, into the appropriate fields and press submit. Print the confirmation page that comes up next or take down the confirmation number from this page.
Step 5
Go to a Verizon store that accepts payments for phone bills. You may want to call ahead since many locations do not accept payments for phone bills. Take your Verizon phone bill and method of payment and present these to the Verizon representative. She will stamp your portion of the bill and return this to you as a receipt that you paid your bill.