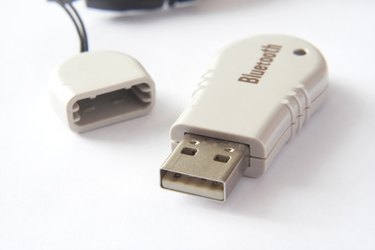 Bluetooth wireless is very common in cell phone headsets and wireless keyboards and mouse devices. It is a low-power, moderately high-speed wireless communication protocol that is fast enough to carry high-quality audio signals. If you have a Bluetooth-enabled computer, you can configure it to output its audio signals to a Bluetooth headset or set of speakers, allowing you to listen to music and movies played in Windows Media Player anywhere within 30 feet of the computer.
Step 1
Place the Bluetooth device in pairing mode. Bluetooth speakers and headphones usually have a "Connect" button somewhere inconspicuous; consult the product's manual for specific instructions on how to place it in "discovery" mode.
Step 2
Open "Devices and Printers" from the computer's "Start" menu, and click the "Add a device" button in the window that opens.
Step 3
Select the Bluetooth device from the list and enter its security pass key. Most devices use "0000" as a default password.
Step 4
Right-click the volume control in the bottom right-hand corner of the Windows taskbar and select "Playback devices."
Step 5
Click the Bluetooth device in the "Playback" tab, and click "Set Default." The Bluetooth device is now the computer's primary audio playback device.
Step 6
Open WMP and play the file you wish to listen to. The audio should be played through the Bluetooth device.