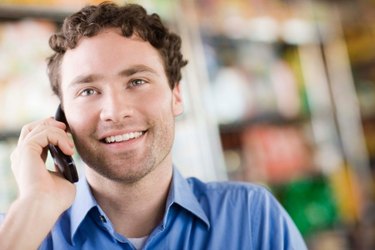 Opening a new account with AT&T Wireless is a simple matter of a quick visit to your nearest At&T store or a few keystrokes on the AT&T Wireless website. Even though every U.S. person residing at a U.S. address is provisionally eligible to open an account, enrolling with AT&T is not guaranteed, as a few qualifications and restrictions do apply. Every AT&T account is subject to approval, contingent upon age requirements, credit check and each applicant's specific circumstances.
Step 1
Make sure you understand and are able to comply with the AT&T age requirements. A person entering into a contract with AT&T is required to be of legal age, i.e. 18 years old. Minors between between 13 and 17 are allowed to have AT&T accounts only if a parent or a legal guardian creates and endorses such an account.
Step 2
Apply to open an account directly at an AT&T store or online. You will be asked for your standard personal information. Prepare to provide your driver's license number and Social Security Number.
Step 3
Fill out and sign the necessary paperwork or online forms to set up your account. Depending on the results of your credit check, AT&T reserves the right to alter the regular payment plan. They may require a deposit in the amount comparable to an early termination fee, which would be applied to your account should you abandon it before the end of the two-year term.
Step 4
Opt for a Prepaid Plan with the AT&T GoPhone option if you wish to bypass credit check and/or avoid contracts and commitments. The prepaid option allows you to prepay the amount of voice and data you anticipate using at the beginning of each month. A variety of prepaid plans are available. On the upside, you only pay for what you use and there are no strings attached. On the downside, the number of phones available as GoPhones is limited, excluding the top-of-the-line smartphones, and you pay the full price when purchasing the device. Subsidized handset prices are available under a two-year contract only.