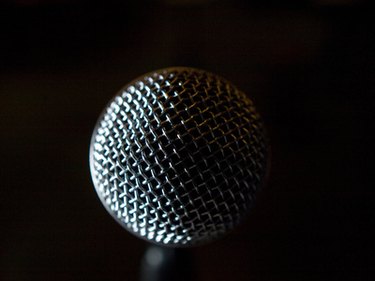 The iPhone features a Voice Memos application that allows you to record, edit and share voice messages with others via email or text message. These messages can be shared with individuals with any type of cell phone service, as long as the individual has access to multimedia text messaging. The voice recording can be as long or as short as desired, but only one minute of the message can be forwarded.
Step 1
Touch "Voice Memos" from the phone's screen.
Step 2
Touch "Record." The record button is the red button on the left bottom of the screen.
Step 3
Speak the message into the speaker located at the bottom of the iPhone.
Step 4
Touch "Stop" when you are finished recording. The stop button is located at the bottom right of the iPhone touch screen.
Step 5
Click "Manage" to edit recordings. The manage button is located on the bottom right and side of the screen in the same location that the "Stop" button appears when recording.
Tip
Messages can be sent by touching "Manage," highlighting the message you want to send, touching "Share," and touching "Email" or "MMS."