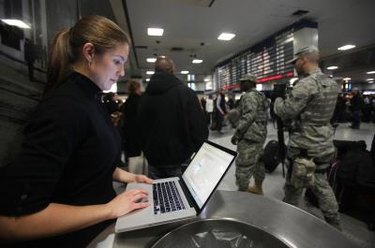 Computer theft security has come a long way since the days of padlocks and security wires. Computrace is a computer module installed onto the computer's motherboard. It works independently from the computer to send out a GPS signal that shows its location. Activating or enabling this feature is a permanent option to add even more security to your computing devices. Not every computer comes with Computrace, but the ones that do come with the feature deactivated in the computer's basic input and output system. From inside the computer's BIOS menu, enable or disable Computrace permanently -- but make a note that you cannot change it back when you change the setting just once.
Step 1
Turn off your computer by holding in the "Power" button on the computer's tower or the top keyboard bezel if using a laptop.
Step 2
Turn the computer back on and wait for the computer manufacturer's logo to appear on the screen. When it appears, press the BIOS access key as seen on the screen immediately to enter into the BIOS menu. BIOS keys vary amongst computer makers, but pressing the "DEL" or "F2" key usually activates the BIOS menu (see Resources).
Step 3
Select the "Security" tab on the BIOS main menu using the arrow keys, as you cannot use the computer's mouse. Here you will see three options for Computrace. The "Deactivated" option will more than likely be selected already.
Step 4
Select the "Disable" option and press "Enter" on the keyboard to disable Computrace on the computer permanently. You will not be able to reactivate the Computrace module once it is disabled. Press the "Enter" key once more to verify the "Disable" selection.
Step 5
Press the "F10" key to save the new BIOS settings and the computer will reboot into the computer's operating system.