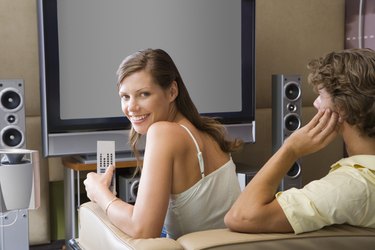 Samsung flat-screen televisions are becoming a popular choice for home theater entertainment. The wide variety of different size flat screens makes this television the ideal choice for any room. The Samsung flat-screen TV comes with a standard pedestal stand attached, which can make mounting on a wall difficult. The pedestal stand is designed so the television will rest on a flat surface and angle toward the room. However, when a homeowner chooses to mount the television on the wall to give the feeling of a true theater experience, the stand can be bothersome.
Step 1
Spread the comforter out on a flat surface such as the floor.
Step 2
Lay the Samsung flat-screen television face down on the comforter.
Step 3
Use the magnetized screwdriver to gently unscrew the four to six screws securing the stand to the television.
Step 4
Remove the screws with the magnetized screwdriver. If you do not have a magnetized screwdriver, cover the end of a normal screwdriver with masking tape with the adhesive side out so that it will catch the screw and pull it from the hole.
Step 5
Pull the stand from the back of the television.
Step 6
Mount the television to the wall with wall-mounting hardware you can purchase from any home entertainment store.