The ink cartridges used in Canon inkjet printers come with a special chip installed that tells the printer when the ink is running low, and when the cartridge is empty. If you refill a disposable ink cartridge yourself, rather than replacing it with another one, the chip may need to be reset, so that the printer will know that the cartridge has ink in it again. To do this, you need a chip resetting tool, which is normally available from companies selling ink refilling kits.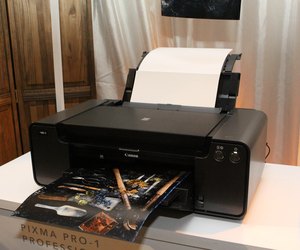 credit: Trisha Leeper/Getty Images Entertainment/Getty Images
Step
Remove the ink cartridge from the printer.
Step
Place the chip resetting tool on a flat surface and slide the cartridge into the chip resetter. Make sure the contacts on the cartridge are directly against the contacts on the resetting tool.
Step
Press the cartridge firmly into the resetting tool for several seconds. An LED light on the resetter will flash several times. Continue pressing the cartridge down until the LED light shines without blinking.
Step
Insert the cartridge into the printer and turn the printer on.