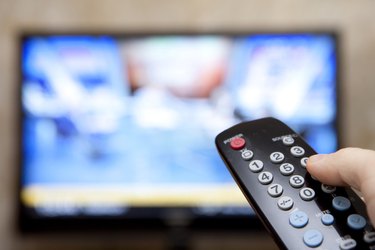 A Westinghouse remote control is used to control Westinghouse televisions. Using the remote control, the user has the ability to change channels and volume as well as access the main menu, which allows you to change and adjust settings. If, after troubleshooting, the remote control is not working correctly, it can be reset. Resetting the remote restores the original factory settings to the remote. If resetting the remote doesn't correct the remote, it may need to be replaced.
Step 1
Lift the back cover away from the battery housing area on the back of the Westinghouse remote control.
Step 2
Lift the batteries out of the battery housing area for removal.
Step 3
Push and hold down any button on the remote control for one minute to drain power from the remote and cause the remote to reset.
Step 4
Insert the batteries back into the battery housing area following the positive negative (+/-) markings in the battery bay for correct battery placement.
Step 5
Slide the battery cover back over the battery housing area.