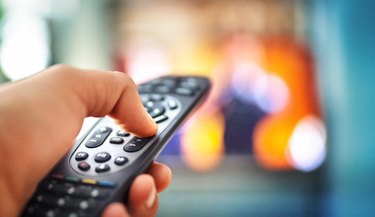 If you are currently subscribed to Verizon's FiOS services, you received a cable box from the company that acts as the primary hub for your media access. Eventually, the need may arise for you to return this box to Verizon, either for repairs or as part of your service cancellation.
Depending on your specific preferences, you can return this equipment through the mail or at one of several Verizon FiOS TV storefronts. Understanding your options when it comes time to initiate a Verizon equipment return ensures that don't inadvertently create logistical problems for yourself.
Tip
You can return your Verizon cable box and other related hardware using the return kit provided to all customers. Verizon provides customers with a 30-day window to return hardware following the disconnection of service without accruing late penalties.
The Basics of Verizon Equipment Return
When you return your Verizon cable box, you must also include all the related peripheral equipment requested by the company. For example, Verizon requires that individuals not only return the set top box, or cable box, but also all power cords, digital adapters and routers that were included as part of the installation.
In the event that an individual uses their own router in conjunction with Verizon's service, they are obviously not required to return this specific hardware unit. Verizon allows customers to keep any remotes that were delivered to them as part of their hardware setup. These remotes can also be recycled if the customer prefers.
Mailing Your Verizon Equipment
After the initial installation process, Verizon customers receive a return kit that they can use to securely package and mail the hardware back to the company when necessary. Included in the FiOS return kit is a prepaid shipping label that customers use to mail equipment items back to the company at no expense to themselves. After the designated items have been packaged securely, individuals take them to their nearest UPS store for shipment. Customers can locate the UPS store closest to them using the online store finder located on Verizon's website.
Exploring the Shipping Timeline
If you are shipping your equipment back to Verizon as part of a service disconnect, you have a 30-day window to complete the process. Customers who fail to ship their equipment back within the 30-day window may be required to pay an unreturned equipment charge. With that in mind, it is in the best interests of customers to package and ship these items back to Verizon at their earliest convenience.
Understanding Store Drop-off Opportunities
Although Verizon permits all customers to return their equipment using the provided return kit, certain FiOS TV stores accept customer returns of their set top boxes and other items. Keep in mind, however, that this service is limited. Verizon's website currently lists only eight states in addition to Washington, D.C., where this service is offered. The vast majority of Verizon customers are required to return their hardware within the stated 30-day window.
In the event that you have further questions about returning equipment, you can locate valuable information through Verizon's online portal. Taking the time to fully understand this process and collect all of the required equipment for return provides the best possible experience during service disconnection.