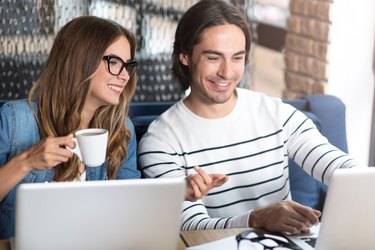 Downloading photos not intended for download may be illegal, depending on your purpose. Pictures embedded in Flash slideshows are nearly impossible to retrieve, and other photos have been inserted into galleries for which the "Save Image As" tool has been disabled. As long as your intent is legal, there are ways to get that incredible or sentimental photo into your own pictures folder.
Step 1
View the source code for the Web page. Right-click on the photo or anywhere on the page and choose "View Page Source." This shows you the HTML code that makes up the page. In it, you should find the URL of the photo itself. It can take time to find this URL, but keep at it. Every photo has its own URL, and once you find it, you find the photo.
Step 2
Copy and paste the image's unique URL into the address bar of your browser. Hit "Enter" and the photo should show up in your browser.
Step 3
Right-click the image and select "Save Image As."
Step 4
Choose your "My Pictures" folder, and click "Save."