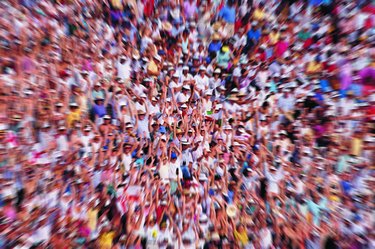 In real life, it may take a long time to declare friendship with someone. On the massive social networking site Facebook, however, it only takes a click or two. To review your own personal social network, visit your Facebook friends list. People can opt to be your virtual friend at any time, so it can be exciting to log in and check pending friend requests as well as who's been recently added to your network.
Step 1
Log in to your Facebook page. Check for the friends icon, which shows the silhouette of two small people, directly to the left of the Facebook logo.
Step 2
Click the gear icon on the right side of the top of the Facebook screen and toggle to your personal page, which has your first and last name, if you don't see the friends icon. This means you were previously logged in as a business account. Click your name to toggle to your personal page.
Step 3
Hover the cursor over the friends icon -- without clicking -- to see the list of the most recently added friend requests. If you have unseen requests, there will also be a number here in a small red balloon, notifying you of new friend requests.
Step 4
Click back to your main page, where you see your timeline and recently added posts.
Step 5
Click the "Friends" link to see all of your friends, including the most recently added ones.
Tip
You only have access to the Friends hover icon when you're on the personal page mode. On a business page, this icon changes to "Likes." If you operate a business page and a personal page, it may appear that you're friendless when you try to see your recently added friends. You just have to remember to toggle back to your personal page each time.