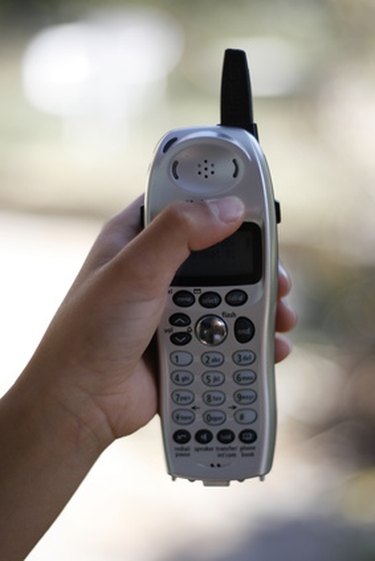 AT&T offers two types of voicemail service, AT&T Voicemail and AT&T Voicemail Plus. The Plus plan features extended message length for both the greeting and the incoming message. It also features a bigger message capacity and longer stored-message time. There are two ways to activate the voicemail service: by dialing your own number from the phone assigned to the voicemail or by dialing the AT&T voicemail access number from any phone line.
Step 1
To set up your AT&T voicemail using the phone assigned to the service, dial your own number, including area code. Press the * key while the greeting is playing to hear a recording that states your phone number and tells you to leave a message. Create a password for your voice mailbox. You will be asked to enter a password that is at least 4 numbers long but not more than 10. Remember what you enter, as you will have to enter this number each time you call in to listen to your messages.
The next step asks you to record the name of the person using the mailbox: State your full name after the tone. Record a greeting that people will hear when they reach your voicemail. You will also be asked to record a busy greeting, which the caller will hear when your line is busy.
Step 2
The second option for setting up voicemail is to dial, from any phone line, the voicemail access number provided by AT&T. A recording will prompt you to press * to reach your mailbox. Then enter the 10-digit phone number assigned to the service as the mailbox number. Do not respond to the next prompt, as it will recognize this as your first visit to your mailbox. The recording will instruct you to press the # key to begin setting up your voicemail. Set up your password. Record your name, when prompted, as that of the person using the mailbox. Record a greeting for others to hear when they reach your voicemail, as well as a busy greeting.
Step 3
To retrieve your messages, start by calling the AT&T voicemail service access number (1-888-288-8893). Enter the password you created when setting up the account, followed by the # key. If not at home, enter your 10-digit phone number when asked, and the password you created when setting up the account. Follow the prompts.
Things You'll Need
AT&T phone service

AT&T voicemail service
Tip
When creating your password, do not use your phone number or your social security number. Use something that only you would know.