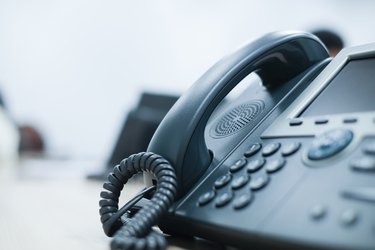 Verizon is familiar mostly as a cellular carrier, but for many subscribers, its also provides home telephone service. Mostly, that's through a Fios bundle, although wireless Voice Connect service and traditional copper-line phone service are also available in some areas. Voicemail on Verizon's landline service is straightforward to set up and use.
Setting Up Verizon Fios Voicemail
Home phone service is an option that's available through a Fios package, so Verizon Fios voicemail is the version most subscribers have. Callers can leave messages from the moment the service is connected, but you can't retrieve messages until you set up your mailbox.
To reach Fios voicemail, dial 1-888-234-6786 (1-888-2fiosvm) or from your home phone press *86. If you're not calling from your home phone at the time, you are prompted to enter your 10-digit phone number, followed by the # key. Your temporary passcode is the last four numbers of your phone number, so enter that for access to your service. Then, follow the system prompts to create your passcode, message and – optionally – a second message for when your line is busy.
You can set up as many as eight individual mailboxes for different purposes or people in your household, each with its own message and passcode.
Retrieving Fios Voicemail Messages
You'll know you have messages when you get an interrupted dial tone on your phone, and some phones may also have a message light that flashes. To check your messages, press *86 on your home phone or dial in to the toll-free number if you're out of the house. If you call from outside your home, you have to enter your 10-digit phone number again followed by the # key.
Next, enter the new passcode you chose when you set up the service, followed by the # key. At the main menu, press 1 to hear your message. After you hear it, press 2 to save it or 3 to delete it.
If you set up individual mailboxes, choose 4 from the main menu and then 4 again for individual mailboxes. Enter the passcode you chose for your individual mailbox, followed by the # key. If you personally use more than one mailbox for different purposes, press 1, 2 or so on to choose between them.
Traditional Landline Verizon Service
Verizon also offers traditional, old-school landline service over copper wire in several states along the Eastern Seaboard. There are two slightly different versions of the service, one in D.C., New Jersey, Pennsylvania and the DelMarVa states, and the other in Connecticut, Massachusetts, New York and Rhode Island.
To dial in for your messages, call the Verizon landline voicemail access number that was included in your welcome letter. If you lost it, you can look it up using a link on the company's support page for home voicemail. After you're in, the setup follows the same process as for Fios customers. The only difference is that your starter passcode might be your full 7-digit phone number rather than the last four digits.
After you set up your mailbox, retrieving your messages works the same way. Dial in to your access number, enter your passcode – and your phone number, if you're calling from outside your home – and then in the main menu, press 1 to hear your messages.
Voice Link and Voice Connect
If you live in an area where Fios is unavailable and there's no copper-line service, you may also have home phone services through Verizon's wireless Voice Link or Voice Connect services. To check messages from your home phone, lift the receiver and press *86 at the dial tone. From there, you are prompted to either set up your mailbox if it's your first call or to play back your messages.
The process is slightly different if you're calling from outside the home. Instead of dialing a separate access number, you call your home number. When your voicemail message starts, press the # key to go to your mailbox.