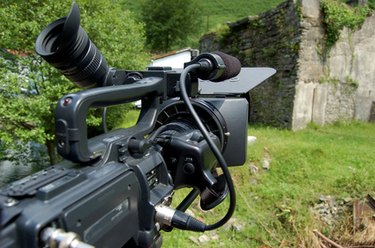 Starting your own TV channel on the Internet is wonderful and cost-effective. The channel and programming is immediately accessible to all individuals living in different parts of the world, and the only requirement is a high-speed Internet connection. There are several websites that offer services to help you launch your own TV channel. Some offer these services for free and collect their revenues by advertising and video download sales on your channel. Others offer their services for a fee, which may vary based on your requirements.
Step 1
List your goals and reasons for starting an Internet TV channel. You need to know why you want to start, what you will offer, what timings you prefer, what you expect to happen and what events you will broadcast. Knowing what you are working toward can help you better execute the strategy.
Step 2
Research the types of channels being broadcast. Determine whether you will broadcast live or want channel streaming. If you broadcast live, think about whether you wish to include other videos that are on-demand or in archives. A streaming channel is similar to the traditional channel and is always on. In a streaming channel, you will decide what to broadcast. In a video-on-demand channel, the viewer decides what he wants to see by clicking on a video to play.
Step 3
Obtain a domain name for your Internet TV channel. Consider getting a ".tv" extension as opposed to ".com" or ".org." Most effective domain names are under three or four syllables and are easy to remember. Register your domain name through popular domain register sites, such as GoDaddy.com or Domain.com.
Step 4
Hire a team of staff to code and design your website. The only difference between a normal website and an Internet TV channel is there will be a large TV in the center of the screen playing a video or some live broadcasting in the latter. Create such a website and have separate sections for advertisements, history, products, services and contact forms.
Step 5
Set up a suitable location for your office at home or at an office building. You will need to do prerecorded or live videos in the location. There must be sufficient space to house all the video equipment and editing software. Rent or build your studio.
Step 6
Purchase the necessary equipment for recording the videos as well as broadcasting live. This may include a high-definition camera, headset, microphone, light kit or screens. You also will need professional editing software, such as Final Cut Pro or Adobe Premier.
Step 7
Find a suitable host for your website. The host handles the bandwidth as well as the constant streaming of videos. Some of the most popular hosting service providers are Bluehost and DreamHost.
Step 8
Come up with ideas and content. Record it and load onto your channel. It is not necessary to start a TV channel that is on 24/7 from the start. You can start with a small amount of high-quality content and slowly add more.
Step 9
Market and promote your TV channel by linking it to other social networking sites, directories, related blogs and forums.
Things You'll Need
Domain name

Hosting service

Video and editing equipment