With ITunes, you can transfer content from your computer to iOS devices -- the iPhone, iPad and iPod Touch -- to keep them synchronized. To sync an iPhone with iTunes, connect the phone to your computer with the iPhone connection cable and then select the music, apps, books, videos and other content you want to transfer. If your computer and iPhone share a Wi-Fi network, you can enable wireless syncing to transfer content.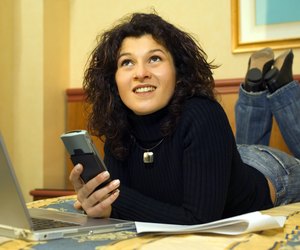 credit: Thinkstock Images/Stockbyte/Getty Images
Step
Connect the iPhone to your computer using the iPhone's USB cable.
Step
Open iTunes on the computer if it does not open automatically when you connect the iPhone. If you don't have the latest version of iTunes, you can download it free from Apple's website.
Step
Select the iPhone on the list of available devices in iTunes. Devices are listed below the LCD and playback controls near the top of the window in iTunes 12.
Step
Click the "Summary" tab on the left of the screen and place a check mark in the "Sync With This iPhone Over Wi-Fi" check box to enable Wi-Fi syncing. The iPhone will sync content automatically when it is plugged in to a power source and when iTunes is open on the computer. Skip this step if you plan to only sync with a USB connection.
Step
Select the tab corresponding to the type of content you want to sync. Content tabs are listed along the left side of iTunes. Depending on what content is available in your iTunes library, tabs might include Apps, Music, Movies, TV Shows, Podcasts, Books, Audiobooks, Tones and Photos.
Step
Place a check mark in the Sync check box found at the top of the selected content page. If you selected the Music tab, for example, place a check mark in the Sync Music check box.
Step
Click the "Sync" button in the bottom-right corner to sync the selected content to your iPhone.