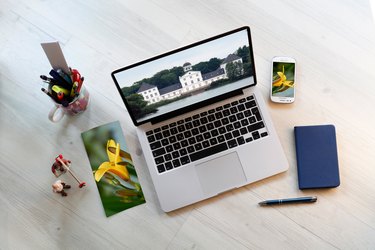 Whether you are planning the perfect selfie or are trying to capture a professional image for an application or online profile, having the right tools to take a picture of yourself is an important resource in today's technology-driven society. If you own a MacBook Pro, you have the tools you need to take an excellent picture right at your fingertips. Learning how to take a picture on a Mac can help you create an image of yourself that matches your interests, needs or goals.
Understanding the Basics
Your MacBook Pro computer comes equipped with the Photo Booth application. Photo Booth allows users to use the front-facing camera located above the display to take pictures of themselves. This camera can also be used to capture short movies, depending on the amount of hard drive space you have available. Using the Photo Booth software, you can capture the photos you need at the touch of a button.
Using Photo Booth to Take a Picture
When you open Photo Booth, you see a window that includes the current view of the camera installed on your MacBook Pro as well as a large red button at the bottom of the screen. If you are sitting in front of the computer, you can see yourself in the Photo Booth window. This is a good time to adjust the lighting or anything else you want to do to improve your image. To the left of the red button are three small icons, each of which serves a different function: The first takes four quick shots, the middle icon takes a single picture, and the right-most icon records a movie. Tap one to select your preference. To the right of the large red button, is the Effects menu, where you can incorporate a variety of fun visual add-ons and backdrops into your image. Take the time to browse these effects to determine if there are any you want to feature in your picture. An effect must be selected before you take the photo you want to apply it to.
Mastering How to Take a Picture on Mac Computers
When you are ready to take a picture, press the large red button featuring the camera icon. A brief countdown begins, giving you time to prepare for the image. When the countdown reaches zero, Photo Booth takes the photo, and a snapshot appears in the gallery preview section above the Effects menu. You can click the gallery preview image to browse through the pictures you have taken.
After you take a picture you like, locate the file on your computer by right-clicking on the image in the gallery preview section and selecting the "Export" option. This allows you to save the image anywhere on your computer. You can also select the "Share" button at the bottom of the application during your gallery browsing to email the image to your friends or family members or post it to a social media site.