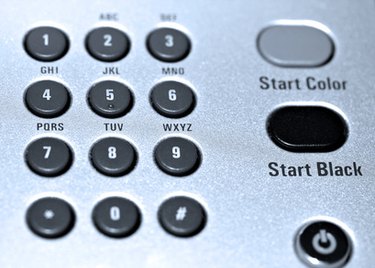 Brother manufactures a wide variety of computer and office equipment, including printers, scanners and fax machines. Brother fax machines are not complicated to use; however, ensuring that they are properly configured can sometimes be tricky. To set up a Brother fax machine, plug the telephone cable from your fax line into the "Line In" jack on the fax machine and then plug the AC adapter into the wall. To test the fax machine you can send a fax to a friend or send a test fax to HP's dedicated fax testing line.
Step 1
Insert a document to fax into the fax machine's page loader. Depending on the model of your Brother fax machine, the page may need to be inserted either right side up or upside down. Refer to the manual included with your particular unit for proper loading instructions.
Step 2
Dial 1-888-473-2963 (1-888-hpfaxme) on the fax machine's keypad. This dedicated fax test line is run by Hewlett-Packard but works with all fax machines.
Step 3
Press "Start" or "Send" on the fax machine to begin the transmission. Once the fax is sent, a confirmation page will be printed by most Brother fax machine models.
Step 4
Wait a few moments for a return fax from the HP Fax Test Service line. The return fax will be printed automatically once it is received. If you receive the fax, then your Brother fax machine is properly configured.