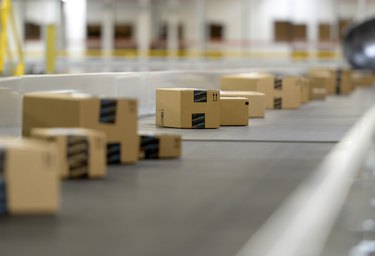 Amazon's website keeps a log of every order you place and each package's shipping information, so you can track your boxes even if you delete your order confirmation email. Most purchases made within Amazon itself include tracking information, but if you buy from an Amazon Marketplace seller, the merchant might not enter a tracking number. In these cases, write to the seller directly to ask about your shipment's status.
Check Shipping Information
On Amazon's website, click "Your Account," and "Your Orders," and then log in to see a list of all your recent purchases. Click "Track Package" by an order to bring up the tracking number and a brief summary of tracking information. Press "See Complete Tracking History" to see the full tracking history, or copy the tracking number and paste it into the shipping company's own tracking page to check for additional details. Amazon uses several shippers, so check the "Ship Carrier" line to find out who has your box. Marketplace purchases also have a Contact Seller button for sending an email to a merchant.
Find Missing Packages
Even if your order doesn't list a tracking number, it might still be on its way to you. Sometimes shippers don't scan a package until several days into its transit -- or even until final delivery -- so wait a few days and check again. If an order says it was already delivered but you don't have it, check your front door or porch to make sure the carrier didn't leave an attempted delivery notice, place the box in some nearby location, or give it to a neighbor. If a day goes by after a supposed delivery with no sign of a package, return to the order's tracking info, click "Where's My Package" and then "Request Refund/Replacement" to report the box missing.