Microsoft Word 2013 -- part of the Office suite, alongside productivity programs such as Excel, PowerPoint and Outlook -- introduced features such as the aesthetically oriented Read Mode, in-text online videos and tap-to-zoom controls. Features from the 2010 edition made the cut as well, including document translation. Word 2013 provides you with a few different options for English-to-Spanish translation -- it's up to you to choose the method that best suits your needs.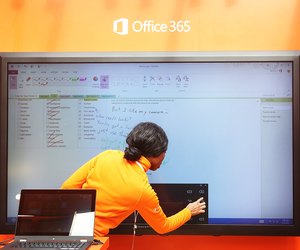 credit: Mario Tama/Getty Images News/Getty Images
The Whole Picture
Step
Open the English-language Microsoft Word 2013 file you wish to translate into Spanish. Select "Review" then choose "Translate" under the Language tab.
Step
Select "Choose Translation Language" and pick Spanish for the "Translate from" option and English for the "Translate to" option. Press "OK" to confirm your choice.
Step
Press "Review" and "Translate" once again, then choose "Translate Document" and click "Send." This opens a browser window that displays your whole file in both English and Spanish.
Get Selective
Step
Open your English-language document in Word 2013 and right-click anywhere in the document. Select "Translate" from the menu that appears to open the Research pane.
Step
Select "Translation" from the Research pane. Using the drop-down menus, set the "Translate from" option to English and the "Translate to" option to Spanish.
Step
Press the "ALT" key, then click on any word to show its Spanish translation in the Research pane. To translate sentences or phrases, select the group of words, press "ALT" and click the selection.
Go Mini
Step
Activate Word 2013's Mini Translator to instantly display an English-to-Spanish translation of your document's individual words. Click "Review," then -- under the Language group -- select "Translate" and "Mini Translator." Ensure that your "Translate from" and "Translate to" options are set to English and Spanish, respectively.
Step
Point to the English word you wish to translate to Spanish with your mouse's cursor. The translated word appears instantly.
Step
Point to an English word when you have the Mini Translator activated, then click the Play icon -- indicated by a green arrow -- to hear a spoken translation of the word. Highlight a phrase and press Play to hear a translation of the entire phrase.