In many ways, troubleshooting a Sharp TV is no different than troubleshooting any other TV. The aim is to isolate the source of the problem--usually an innocuous control that has been accidentally set the wrong way-- and push a couple of buttons to make it go away. The basic procedures are the same for most forms of TV, though Sharp has unique configurations for its televisions that allow you to access them.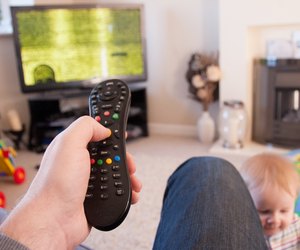 credit: TW-Creative/iStock/Getty Images
Step
Familiarize yourself with the buttons on the Sharp remote control. In particular, pay attention to the Menu button, which lets you access the more sophisticated controls. Other buttons to pay attention to when troubleshooting are the Sleep button (which lets you set the TV to turn off automatically in case you fall asleep), the View Mode button (which lets you adjust the aspect ratio so that the image doesn't appear distorted or cut off), the Input button (which tells the TV which of its outlets you want to use), and the Audio button (which lets you select from different sound options).
Step
Examine the various options on the Menu button: they appear onscreen as a series of bars, which you can select using the arrow keys on your remote. The up and down keys let you maneuver between the different options, while the left and right arrow keys let you select a particular option or go back once you've finished adjusting it. Menu options let you adjust the specifics of the sound and audio (color, tint, bass, treble and so on), block certain channels and shows, set up connections to PC or computer, and cover any miscellaneous issues such as the language of onscreen menus and settings that save electrical power.
Step
Perform basic troubleshooting steps typical of any television set. They can involve almost anything, but include checking the cables to make sure they're all properly attached, adjusting the antenna if the signal is distorted, checking the batteries on the remote and ensuring that it has a clear line of sight to the TV, and double-checking the power source to make sure the outlet receives electricity.
Step
Consult either the buttons on the Sharp remote or the options in the Menu bar to address your particular issue. Visual problems can usually be addressed by the Picture Menu, the Setup Menu, and certain aspects of the Option Menu. Audio problems can usually be addressed with the Audio Menu, the Setup Menu or the Option Menu. Power issues can be dealt with using the Power Control Menu or the Option Menu.
Step
Return to the show you were viewing after you have successfully addressed the problem by pushing the Exit button on the remote. The menu screen should vanish, as should any other onscreen controls.