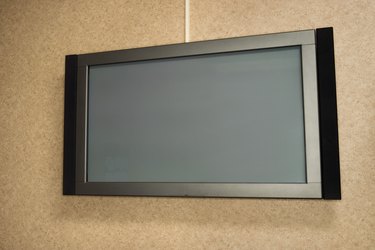 HDTVs, just as any other electronic devices, can experience certain technical problems that can interrupt your TV viewing. To address these problems, you can call a technical support specialist or have the TV serviced, but you can save money and time by learning to resolve these problems on your own with some basic and foolproof troubleshooting skills.
No Power
Step 1
Power on the TV using the power button on the TV's front panel controls. The control panel is on the bottom right of the TV, and the power button is the first from the right, just next to the IR sensor. If the TV powers on from here, you may need to replace the batteries in the remote or use a universal remote instead.
Step 2
Reset the TV by unplugging its power cord for 30 seconds and plugging it back in. After a few moments, try to power on the TV again.
Step 3
Plug the TV's power cord into an alternate electrical outlet or surge protector to test for an electrical issue in the home on one particular outlet.
No Picture
Step 1
Change the TV to the correct video input using the "source" button on the Olevia remote, directly underneath the volume down and channel down buttons. If you are attempting to watch a Blu-ray player connected to the Olevia's HDMI 1 input, for example, you may not see a picture until the source button is repeatedly pressed until the TV is set to the HDMI 1 input.
Step 2
Unplug the video connection cable that attaches the device you are trying to watch to the TV. Using the same example as above, unplug the HDMI cable from the TV and plug it back in. Recheck for a picture after the TV has scanned the HDMI input.
Step 3
Check for a picture on another device, again using the "source" button. If you have a DVD player connected to the Video 2 input, and you see a picture after switching to it, troubleshoot the Blu-ray player individually.
Troubleshoot no sound.
Step 1
Press the "Mute" or volume up control on the Olevia remote to make sure the TV is not muted.
Step 2
Press the "MTS" button on the Olevia remote to deactivate SAP and other settings that can lead to a temporary loss of audio. Repeatedly press the "MTS" button until you see "stereo" on the screen and check for audio.
Step 3
Locate the audio connection cables of the device you are trying to watch, and unplug them. If you cannot hear any audio on a VCR connected via RCA cables, for instance, unplug the red and white RCA audio cables, check them for damage, and plug them back in. Again, check to see if any audio is restored.