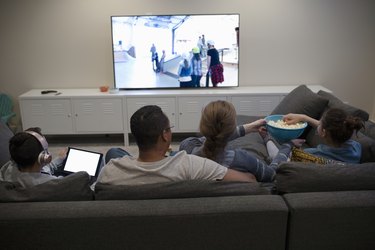 Retailers rely on a variety of eye-catching, informative displays to help you choose products with the features you want. These include everything from detailed shelf labels to large, full-color posters and, of course, the packaging for anything that's displayed for sale in its box. In the case of televisions, major manufacturers like Sony realized quickly that the best advertising for their TVs' features was, in fact, the TVs themselves. They have a "demo" or "retail" mode for use in-store, and you need to turn that off for home use.
What Demo Mode Does
The primary purpose of a TV's demo mode is to show off its features to the best advantage. The built-in demo program cycles endlessly through a greatest-hits package of the TV's leading features, although many allow you to break out of the endless loop and play with the features yourself.
Usually, the set's brightness and contrast are dialed up to artificially high levels to compensate for the harsh lighting of retail spaces. Most use motion smoothing in demo mode, or "Motionflow" in Sony's terminology, which looks great in carefully staged videos but can be distractingly unrealistic at home.
You Definitely Want Demo Mode Off
You should turn off the demo mode settings when you set up the TV at home. For one thing, driving the screen to its maximum at all times can shorten the life of its components over time. Display settings intended for a store's lighting are seldom ideal in your living room, and the demo mode is designed to restrict access to some of the TV's settings to minimize the risk of tampering.
Ordinarily, you'll be prompted to choose between home or retail modes when you do the initial setup on your new TV. If you make the wrong choice and have to go back or if you bought a display unit that's already in demo mode, you need to change it manually.
Disabling Demo Mode
Each generation and series of Sony TVs has its own method for turning off the demo mode, though most are broadly similar. For many current models of Android-powered TVs, press the Home button and then choose Settings and Retail Mode Settings. Change the setting for Demo Mode and Picture Reset Mode to Off and exit the menu.
In many other current models, after pressing the Home button, you choose Settings and then System Settings. Choose either General Set-up or Preferences, depending on your TV, and then Shop Front Display Setting. Change the setting for Demo Mode and Picture Reset Mode to Off and exit the menu.
For the correct instructions for your own set, consult the user's manual or the Demo Mode support page on Sony's website.
Sony TV's Demo Mode Won't Turn Off
Occasionally, you may find that your TV won't come out of demo mode even after you follow the recommended steps. If that happens, the simplest solution is to perform a factory reset. Unfortunately, this removes any personalized settings, but it shouldn't take long to re-enter them.
The reset process varies by model as well, but on most models, if you press Home and then Settings on your remote, you should see a menu option that says Storage & Reset or something similar. Choose Factory Data Reset or the equivalent setting for your specific TV.
Change Mode Without a Remote
You can make your Sony Bravia's demo mode turn off without a remote, though it's a bit more complicated. Most sets have a Menu button somewhere along the edge, along with a + button and a - button. On some, the power button doubles as a menu button.
To switch out of demo mode, press the Menu button and then use either the + or - to cycle through the menu options until you get to Demo Mode. Use the Menu button to choose your menu options and the + or - button to cycle through the On and Off settings.
You can also force a factory reset without your remote. Unplug your TV from the wall and then hold down the Power button and the - button while you plug the TV back in. Release the buttons when the TV's LED blinks green, and the factory reset starts.