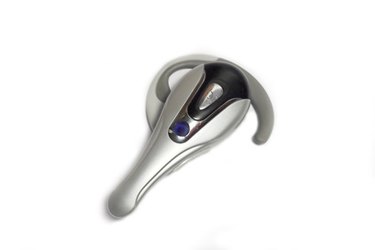 Most Windows-based computers now come with a built-in Bluetooth receiver. This allows the computer to connect to Bluetooth-enabled hardware, without the aid of a cable connection. However, even if the computer does not come with this receiver, it is possible to hook up an external Bluetooth adapter to a USB port on the computer, then install the provided drivers. Either way, Bluetooth must be enabled before anything can connect to the computer.
Step 1
Click the "Start" button on the desktop, then choose "Control Panel," "Network and Internet" then finally "Setup a Bluetooth enabled device."
Step 2
Power on the Bluetooth hardware you want to connect to the computer. You must have some sort of hardware to connect to the computer, in order to enable the Bluetooth connection.
Step 3
Click "Add" and the computer searches for any Bluetooth hardware in the area. Once it detects the hardware, select it and click "Next."
Step 4
Type in the passkey for the Bluetooth hardware (found in the device's user manual) and click "Next."
Step 5
Install any drivers now that came with the Bluetooth hardware. (Insert the driver installation CD that comes with the Bluetooth hardware, wait for the the installation wizard to load onto the screen, accept the license agreement, then click "Next" for the installation name and location and select "Install" to install the drivers.) Choose "Locate and install driver software" if there are provided drivers. If not, click "Don't show this message again for this device" and click "OK."