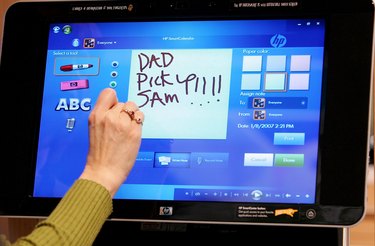 Bluetooth is one of the great electronic inventions. It allows you to send data between two pieces of equipment using short length radio waves on what is called a PAN or personal area network. With Bluetooth-enabled devices, you no longer need to directly hook items like headphones, printers or cell phones to your PC. It can all be done wirelessly. Hewlett Packard Touchsmart computers have this technology, and with a few simple steps you can easily hook your other Bluetooth-enabled devices to it.
Connecting Your Bluetooth Device
Step 1
Click on the Start button. This looks like the Windows symbol inside a circle. It's found in the bottom-left corner of your desktop.
Step 2
Click on "Control Panel." Find the icon that says "HP Wireless Assistant" and double-click on it to open it.
Step 3
Check to see if there's a Wireless LAN and if it says the status is "On." The Wireless LAN must be on in order for you to connect Bluetooth devices.
Step 4
Click the "Properties" button if the status is shown as "Off." This will bring up a separate window.
Step 5
Put a check mark next to the option of "Independent controls for installed wireless devices." Click the "Apply" button. This will put an on/off toggle button next to the status indication.
Step 6
Click "Turn On" to enable your wireless network. This will also enable your computer to communicate using Bluetooth.
Step 7
Connect a Bluetooth-enabled device to your computer. You can see what devices are connected by clicking on the "Start" button and going into the "Control Panel." This time click on the "Bluetooth Devices" icon. It will bring up a separate window showing information like the names and device category. Bluetooth settings for your separate devices also can be changed here.