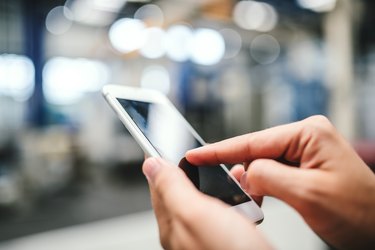 If you find a cellphone and want to break into it, you're probably out of luck. Today's cellphones are built with security in mind. If you leave your phone at a coffee shop and someone picks it up, you hope no one is able to use some password cellphone unlocking hack. However, if you're trying to get into your own phone without a keypad unlock password, there are a few tricks you can try, depending on the type of phone you have.
Keypad Mobile Password Unlock
Don't assume you're completely locked out. Today's phones have features that do away with the previous password cellphone unlocking requirement. You may be able to put your thumb where the home button is and watch your phone unlock. Some newer phones only require that you hold them up to your face. If that doesn't work, try powering the phone off and back on again. If you've been trying your standard keypad mobile password unlocking method and it isn't working, this could resolve it.
Unlocking a Locked Apple Phone
Even though iPhones now come with features that no longer require a password to unlock the phone, when the phone restarts, you need to input your password to get in. This is when you'll most likely realize you've forgotten it. While you can't get into your phone without entering your password on the virtual keypad, you aren't locked out forever. Try moving your phone close to another device in your house that's synced with it. If you participate in the iCloud Keychain, you may be able to get in this way. If you can't, there is a price to pay if you can't come up with a password: You lose your data. If you've synced your phone with iTunes, hook it up to your computer and choose recovery mode. If you haven't and you have an iPhone 8 or later, connect it to a computer, open iTunes and force restart it, which requires three steps in succession:
Press and quickly release the "Volume Up" button.
Press and quickly release the "Volume Down" button.
Press and hold the "Side" button until you see the Recovery Mode screen.
For an iPhone 7 or 7 Plus, press and hold both the "Side" and "Volume Down" buttons simultaneously. Hold them until you see the Recovery Mode screen. An iPhone 6s or earlier requires you to press and hold the "Home" and "Top" (or side) buttons simultaneously until you get the Recovery Mode screen.
Unlock a Locked Android Phone
Android owners who are having trouble with their keypad mobile password unlock method also need to erase the phone to get back in again. Older Android devices – 4.4 or lower – can be unlocked by resetting your Google password, but newer devices won't let you into your phone without a keypad-specific password. You can remotely wipe your Android using another device or reset your device using the volume and power button, but how you do this depends on your specific phone model. For a Samsung S9, you power off the device, press and hold the "Volume Up" and "Bixby" buttons at the same time, and then also press and hold the "Power" button until you feel the phone vibrate. Release all the buttons when you see the Samsung Galaxy S9 logo. Choose "Wipe data/factory reset" from the options on the recovery screen and follow the prompts to erase and restart the phone.