Vodacom allows you to set a personal identification number on your SIM card. When you insert the SIM card into a new phone, the phone will prompt you for the SIM PIN. If you enter the PIN wrong three times, the card will lock and prompt you for a PIN unlocking key. Even if you take the SIM card out and put it back in the original phone, the SIM still won't work. To unlock the SIM, you will need to get a new PUK from Vodacom.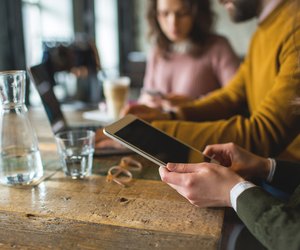 credit: Katie_Martynova/iStock/Getty Images
Step
Obtain your PUK code from Vodacom. You can dial "082111" from a Vodacom phone, or send a text message to "31050" by typing "VPP" on your phone with the locked SIM.
Step
Type "05" followed by the PUK code for SIM1. For SIM2, enter "05" followed by the PUK.
Step
Type a "" followed by your new SIM code, then type "" and the SIM code again. Finish by entering a "#" at the end. For example, if SIM1 is locked and your PUK code is 123456, and you want your new SIM code to be 5555, type "_05_55555555#" on your phone.