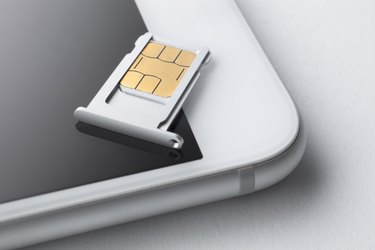 Vodacom is a telecommunications leader in Africa with a mobile network that covers 291 million people in 50 different countries. If your Vodacom phone is blocked due to being reported as lost or stolen, you need to resolve the problem with Vodacom or the seller, if you recently bought it. However, if your phone is locked, you can obtain your Vodacom PIN Unblocking Key (PUK) number in your account settings to unlock it.
Vodacom PUK Code Unlock
If your Vodacom phone is blocked, it was likely reported as lost or stolen. You may have bought it from a third-party seller or retailer, in which case you can go back to the source and try to get a refund. However, if that isn't an option, you can try contacting Vodaphone to work it out. If the phone has been blacklisted, you won't be able to use it at all, even with a new SIM card.
If your SIM card is locked because you entered the wrong PIN, though, you can perform a Vodacom PUK code unlock. There is a PUK code associated with your phone that you can input to unlock it after you've entered the wrong PIN three times. You can access your PUK number through one of these three methods:
Log on to the Vodacom app and look for it under Account Details.
Dial 135# and choose *Services**. Then, select PUK Number.

SMS text VPP to 31050 from the cellphone you need the PUK number to use.
Obviously, if you need a Vodacom PUK code unlock for your phone, two of these methods won't work. You have to go to a computer or different phone to get to your Vodacom account.
After you have the PUK number, if you input it incorrectly too many times, your SIM card is blocked, and you need a new SIM card to use the phone.
Locking a Vodacom SIM Card
The locking tool can come in handy if you can't find your phone. You won't even need to get your Vodacom PUK number involved since Vodacom has a handy Lost Mode available. Just log in to your account and navigate to where you lock your phone. If it's an iPhone, you go to Find My iPhone and locate Lost Mode, which locks your phone. It displays a message on the screen instructing anyone who finds the phone to call you.
Android device owners have a similar feature. Go to Android.com/Find, select your account and click the phone at the top of the screen. This shows you where the device is, sends an alert to the phone, and gives you the option to erase it if it's lost for good. When you're sure it's lost, you can blacklist the phone so that no one else can use it. However, without your Vodacom PUK number, a thief would be locked out after three bad passcode tries anyway.