Keeping the software on your TV up to date helps to ensure you've always got access to new features and security patches. Upgrading the software on your Samsung Smart TV is a two-stage process. First, you download the upgrade from Samsung's website. Once you have the upgrade, you transfer it to a USB key or hard drive and upload it to your TV. Information in this article applies to computers running the Windows 8 operating system.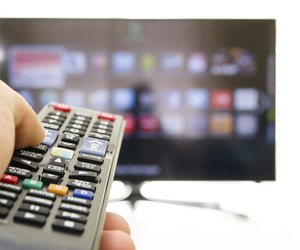 credit: chargerv8/iStock/Getty Images
Step
Launch a new Web browser tab and navigate to the Samsung Support website (link in Resources). Enter the model number of your Samsung Smart TV in the "Enter Model Number or Model Name" field and press the "Search" button. Select your Smart TV model on the search results.
If you're not sure what your model number is, click the "TVs" link under the TV/Video heading and follow the prompts to find your TV.
Step
Click the "Downloads" button to load a list of available downloads for your Smart TV and click the "Firmware" tab to load a list of upgrades.
Step
Locate the newest available upgrade for your TV and click the download icon located under the File heading. Click "Save" if prompted to select what you want to do with the file. After the download finishes, locate the downloaded file and, if it's a ZIP file, double-click it to extract it onto your computer.
Step
Connect a USB key or USB hard drive to an available USB port on your computer and press "Ctrl-E" on your keyboard to launch the File Explorer application, if it doesn't launch automatically. Your USB device will appear on the list of removable storage devices listed in File Explorer.
Step
Drag-and-drop the software upgrade file on to your USB device. Alternatively, you can select the upgrade file, click "Ctrl-C" on your keyboard, double-click the USB key on the list of removable devices in File Explorer and press "Ctrl-P" to paste a copy of the upgrade on to the USB device.
Step
Eject the USB device, make sure your Samsung Smart TV is powered off and then plug the USB device into the TV. The TV must be turned off in order for the USB device to connect properly.
Step
Turn on the TV, press "Menu" on your remote, highlight "Support" and press "OK / Enter" on the remote to load the Support screen.
Step
Highlight "Software Update" and press "OK / Enter" to load the Software Update prompt. Highlight "By USB" and press "OK / Enter" to have the TV scan your USB device for the software upgrade.
Step
Select "OK" when prompted to confirm that you want to upgrade the software on the device. The TV begins the automated upgrade process and restarts when the process is complete.