An MP3 (MPEG Audio Stream, Layer III) is a file that plays audio content such as songs, speeches or auditory books. Using Facebook, a highly-used social networking website, you can publish an MP3 file on your profile page to enhance your content and provide an entertaining element for your visitors. If you have an MP3 file and a Web host, you can use your Facebook account to upload the MP3 on your page and create a more dynamic presentation.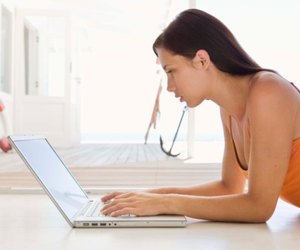 Step
Place your MP3 file on your Web host in the same folder or directory that you keep your other Web page files in and make a note of this location. This allows visitors to listen to your upload when it is published on your Facebook page.
Step
Log in to your Facebook account and click the "Profile" link.
Step
Click the "Wall" tab and then click the "Link" icon at the bottom of the search field.
Step
Type in the full URL address of your MP3 file in the text field under the "Link" title. For example: http://www.yourdomain.com/music.mp3
Step
Place your cursor in the text field above and type in the terms that you want the MP3 link to display as. Click the "Attach" button when ready.
Step
Double click the default "Unknown Artist" and "Unknown Album" entries after the "Artist" and "Album" section to enter the relevant information and click the "Share" button when done. Your post displays your entry with a play button so that visitors can listen to your MP3 upload when they visit your page.