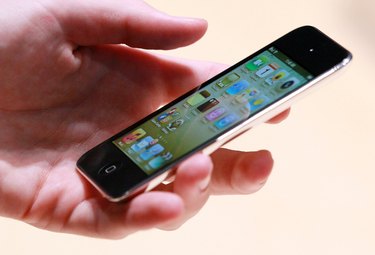 Apple created the iPhone to be more than just a cell phone. It can also play music and movies or store your collection of digital photographs for an ultraportable photo album. Apple automated the transfer process to upload your photos onto the iPhone using the built-in syncing feature integrated into Apple's iTunes software. Launch iTunes to transfer your computer's photo collection to your phone, which will allow you to flip through your images while on the go.
Step 1
Launch the iTunes software. It is located inside the "Applications" folder on Macs or the "Start" menu on Windows.
Step 2
Connect the iPhone to your computer using the USB syncing cable. The wide end is inserted into the bottom of the iPhone and the opposite end fits into any USB port on your Mac or PC.
Step 3
Click the iPhone's logo in the left column of iTunes. A summary screen of the iPhone's contents and syncing settings will appear.
Step 4
Select the "Photos" tab at the top of the screen. Click the box next to "Sync Photos." Choose the photo source (for example, iPhoto on a Mac or a pictures folder on your PC) from the drop-down menu.
Step 5
Press "Sync" in the bottom right corner of the screen. The iPhone will now sync with your selected photo source, transferring any detected photos onto the device. Photo syncing will henceforth be automated. When you plug in your device in the future, the iPhone will detect any new photos in your source folder and transfer them automatically.
Step 6
View the photos on your iPhone. Press the "Home" button on the device's front panel. Use your finger and tap "Photos" (the icon with a sunflower image) to view imported photos.
Things You'll Need
iPhone USB syncing cable

iTunes 9.0+
Tip
The iPhone automatically optimizes the size and resolution of your photos to look best on the iPhone's small screen.