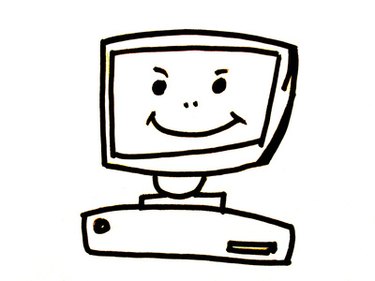 PDF documents are secured documents that cannot be edited by users other than the document's creator. When attempting to create a screensaver from a PDF, you will have to convert the PDF file to a JPEG. The reason is that image files are much more universal. For example, browsers have the built-in capability to display images, while handling PDF documents requires an external application or plug-in which may or may not be present. Convert your PDF file to a JPEG using a free online file converter.
Step 1
Visit a website for online PDF file conversion such as ZamZar.com or YouConvertIt.com. ZamZar.com is a user-friendly option with a high success rate of file conversions. To convert, start by clicking the appropriate button to find the file on your computer. A dialogue box will appear allowing you to search for the file you wish to convert into a screensaver. Select the file, then choose "Open."
Step 2
Choose "JPG" as the final format. Input your email address if asked; the site may deliver the file to that address.
Step 3
Click the "Convert" button. Usually, in less than 30 minutes, you will receive your converted file. Download your JPG image and save it to your computer. Be sure to create a new file labeled "Screensaver [Today's Date]." Place the file on the desktop so that it is easy to locate.
Step 4
Open the control panel on your computer by clicking on the "Start" menu. Open your "Displays and Appearances" menu and click on the screensaver icon or hyperlink. A dialogue box will open with an image of your desktop screen and your current screensaver. A drop-down menu will give you the option of choosing your computer's photos as a screensaver.
Step 5
Choose "Photos" from the drop-down menu. Click "Settings." Browse to find the location of the photo you wish to display. Click "Save."