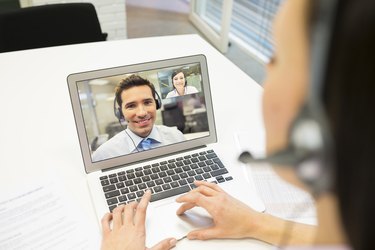 Users of Apple iPhones, iPads, iPod Touch devices and Macs have an effective video-calling application supported by their devices and developed by Apple. Incorporated directly in iPhones since version 4, FaceTime is perhaps the easiest and most intuitive video chat app to use on a smartphone. Adding FaceTime to your compatible MacBook takes a 99-cent purchase and download from the Mac App Store.
MacBook Requirements
FaceTime runs on any Mac computer running the OS X 10.6.6 or later operating system. Video calls require a built-in FaceTime camera, built-in or external iSight camera or a USB or FireWire digital video camera. An Apple ID serves as your MacBook's "phone number." An Internet connection that can upstream and downstream at a minimum of 128 kilobits per second supports basic video calling. One megabit per second speed is required for high-definition video calls, but HD sending and receiving is limited to certain supported MacBooks.
Placing and Receiving Calls
FaceTime's design focuses on seamless incorporation in iPhones, where placing a video call is as simple as placing a voice call. That ease-of-use carries over to FaceTime for Macs. After you download the app and enter your Apple ID, FaceTime uses your existing Address Book to generate contacts, from which a single click places a video call. Incoming calls ring on every Apple device in your arsenal, even if FaceTime isn't running.
Using FaceTime Effectively
While FaceTime is easy to set up and use, video calls may require some thought on presentation, particularly in business or work settings. A built-in camera points up toward the user's face when a MacBook is at lap height, rarely a flattering angle. Ideally, the camera is situated just above eye level. Relying on natural window light may not be the best option either unless the user is facing a window directly, which makes seeing the MacBook screen difficult.
Tips, Tricks and Traps
Problems with calls to iOS devices may stem from expired certificates on those devices. Your call partners may benefit from updating their operating systems. Using FaceTime behind network firewalls may require port forwarding. Apple supplies the necessary port information for your IT department. Voice calls and FaceTime calls are separate. You can switch from voice to FaceTime, at which time the voice call ends, but you cannot move from a FaceTime call to voice. Note that FaceTime is not supported by all cell phone service providers, so you may not be able to connect with some iPhone users through cell service, but you can still reach that iPhone when it has an active Wi-Fi connection.