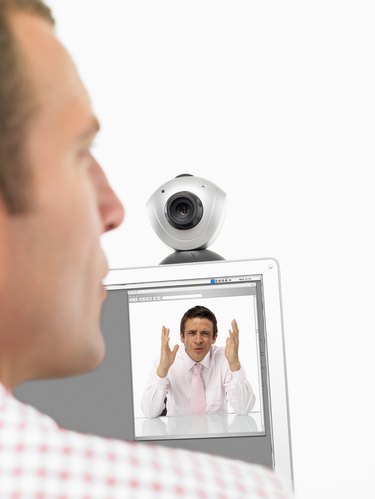 Omegle is a video chat website that allows you to meet up with friends or use the random chat feature to meet a new friend. Using ManyCam with your webcam, you can make an impression by overlaying some effects on your video stream. For instance, you can add a cartoon hat or disguise to your face, you can use a creative border for your scene or you can overlay text.
Step 1
Download and install ManyCam from the website onto your computer. The installation wizard will walk you through each step carefully.
Step 2
Close Omegle.com in your Web browser if you are already visiting the website. It is important that ManyCam already be running before you visit Omegle.com.
Step 3
Launch ManyCam on your computer and click the "Effects" tab. Select any effect you would like to overlay.
Step 4
Click the "Lower Third" tab in the bottom section of the ManyCam screen, if you would like to overlay some text on the lower portion of your video feed. Highlight the "ManyCam" text and enter your desired first line of text. Highlight the second line and replace it with your desired text.
Step 5
Launch your Web browser and visit Omegle.com.
Step 6
Click the blue "Video" button under "Start a Chat."
Step 7
Click the "Allow" button on the Adobe Flash prompt and select "ManyCam Virtual Camera" from the Camera drop-down list. You should see yourself in the stream with the effects you enabled in ManyCam.