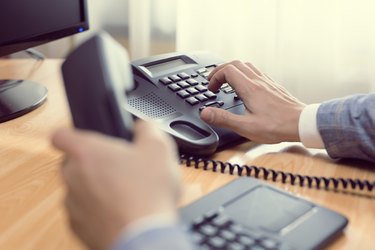 Avaya manufactures lines of office telephones that link to a specific network which provides various technical services such as voice mail accounts. But even though the various features can change from network to network, there are basic functions on Avaya phones that remain the same. One of these is the conference calling feature. Even if you aren't tech savvy, there's no need to be intimidated when trying to make a conference call. You'll find that it's a relatively straightforward process.
Step 1
Use your Avaya phone to connect to the first caller. This process will work whether you call the first party or she calls you.
Step 2
Locate and press the Conference button on the phone's keypad. At this point the first party is put on hold. After a moment you will hear a dial tone.
Step 3
Dial the number of the person you would like to conference into the call and wait for him to answer the phone.
Step 4
Press the Conference button again and the first party will be taken off hold and the second party will be added to the call. Repeat Steps 2 and 3 to add more people to the conference call.