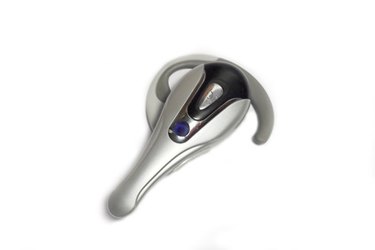 Before you can make a call using your Motorola Bluetooth, you must pair it with your cell phone. When you pair the two together, you are enabling the phone to work without having to hold the phone. It's considered "hands-free" talking. Six different Motorola headsets are available, including models H500, HS805 and HS810. The pairing instructions are the same for all Motorola headsets. In order to pair a Bluetooth headset with a cell phone, it needs to be placed near the phone.
Step 1
Turn off your Motorola Bluetooth, but make sure your cell phone is turned on.
Step 2
Press and hold down the "Power" button on the front of the Motorola Bluetooth headset until the LED light remains lit. You may have to hold down the button for two to five seconds.
Step 3
Perform a device discovery search with your cell phone. The Bluetooth is on "Discovery Mode" when the LED light is on. You may have to refer to your phone's user guide for information on how to do this. When your phone "discovers" the Bluetooth, the name of the Bluetooth will appear on the phone's screen.
Step 4
Select the Motorola Bluetooth on your cell phone. You can select the Bluetooth by pressing either "OK" or "Enter" on your phone.
Step 5
Enter the Bluetooth's passkey into your phone using the phone's keypad. The default passkey is 0000. The headset's LED light will start flashing. This means the Bluetooth and phone are now paired.
Things You'll Need
Cell phone

Motorola Bluetooth

Cell phone manual