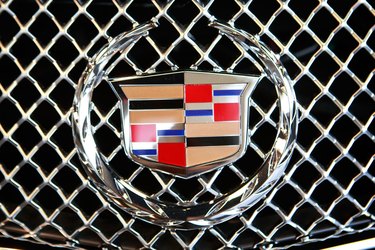 The factory Bluetooth system offered in Cadillac cars and SUVs offers simple, voice-based pairing and use of your mobile phone. The Cadillac Bluetooth system also allows you to store names and numbers that may be recalled by voice commands. Cadillac introduced factory Bluetooth compatibility in the 2008 model year CTS, and Bluetooth was standard on all models for the 2009 model year.
Pairing a Phone
At the heart of the Cadillac Bluetooth system is the voice-based pairing system that makes it easy to connect your phone to the car. The pairing process takes around five minutes per phone, and a maximum of five phones may be paired with a Cadillac. Before attempting to pair the phone with your vehicle, make sure the Bluetooth feature on your phone or PDA is enabled and that the device is discoverable. The pairing process is accessed via the Push to Talk button on the steering wheel, which is distinguished by a caricature of a face with lines coming from the mouth.
To pair the phone, press the Push to Talk button and wait for the Bluetooth system to respond with "Ready." Say "Bluetooth" to access the setup menu. Next say "Pair" to start the pairing process. A four digit PIN number will appear on your radio display or in the instrument cluster, depending on the model. Accept the connection from General Motors and enter the PIN number on your phone exactly as it is displayed in the vehicle. Once the PIN is entered, you must give your phone a name in the car's system. Say a name that you will remember; for example, Mike's Phone. Make sure there is no background noise when you record the phone name.
Basic Functions
A basic function offered by the Cadillac Bluetooth system is the ability to make and receive phone calls. Calls may be dialed directly from your phone or PDA keyboard, or you may press the Push to Talk button followed the word "Dial" to say what number to dial. When your phone rings, press the Push to Talk button on the steering wheel to answer the call over the car's Bluetooth system. Using the "Redial" command at the voice prompt allows the last phone number dialed to be called again without having to touch the phone.
Advanced Functions
Some phones allow use of the Push to Talk button to place calls on hold. If your cell phone has a call waiting function, use the Push to Talk button to place you current call on hold while answering another. The Push to Talk button can be used to change between calls as needed. Using the "Three Way Call" voice command allows you to dial a third party while you are already on a call with someone else. For other advanced functions of the Cadillac Bluetooth system, visit the General Motors Bluetooth page linked in the References section. This site provides step-by-step tutorials for all functions of the Bluetooth system.