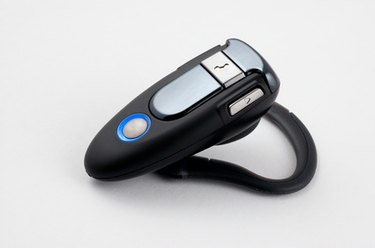 Bluetooth wireless technology features low-bandwidth, short-range connection between two devices enabled to receive the data. The structure behind this technology is complicated, and the extent of operation is implementation specific. Using Bluetooth is not difficult and allows many useful features that enhance today's technology.
Cell Phones
In the world of cell phone technology, a Bluetooth headset allows phone users to communicate hands-free. The device has a sensitive microphone that will pick up the conversation from the users and carry it to the person on the other end of the call. Bluetooth attaches to the ear of the cell phone user and allows them to hear what their caller is saying. Essentially, a Bluetooth device provides access to users without touching their phone. The owner of the phone can answer calls and speak freely. The cell phone only comes into play if the user must use a keyboard to dial a number or send a text message, an invaluable alternative for people who need a hands-off approach to making a phone call. Laws regarding cell phone use while driving has made the Bluetooth function an indispensable asset.
Personal Computers
The nature of a Bluetooth design makes operation with a personal computer powerful. Functions of a Bluetooth device on a PC are vast. Because Bluetooth technology requires a low-bandwidth transmission, many computer patrons adapt to it for communicating with people over the Internet. For example, when making a video call via a Web cam, Bluetooth allows for hands-free operation. Other functions in a computer include synchronizing between mobile devices such as a cell phone or iPhone calendars or address books. Any time communication between two devices requires little bandwidth, a Bluetooth connection might make the process easier. Bluetooth-enabled keyboards and mice also make input on some personal computers possible without a separate wireless transmitter.
Cars
Bluetooth compatibility is a modern-day addition to many car systems. It allows drivers to use hands-free communication devices within the car, and many cars now include snap-in cradles for Bluetooth-enabled phones. Some GPS tracking and roadside assistance services also use Bluetooth technology for communicating with drivers that need help.