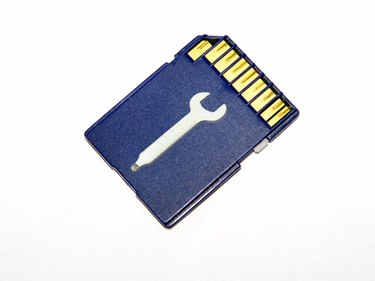 Secure Digital (SD) cards are a form of storage that is used as an alternative to flash drives. The micro versions of the cards are commonly found in cameras, MP3 players and cell phones. Many laptops now come with a built-in reader capable of mounting the cards like any other removable drive. Unfortunately, the cards can become unreadable over time without proper maintenance.
Cleaning
Step 1
Place one end of the cotton swab into the alcohol to saturate it.
Step 2
Flip the SD card upside down and firmly scrub each gold-colored contact on the bottom. If it is a micro card, clean the contacts on the card and the adapter.
Step 3
Use the dry end of the swab to dry the excess alcohol. Alternatively, wave it a few times in the air or let it air dry.
Reinstall Drivers
Step 1
Type "Device" in the start menu and click "Device Manager."
Step 2
Click the triangle or plus sign to expand "Storage Controllers."
Step 3
Right-click the SD card from the list. It should say something like "Integrated MMC/SD Controller."
Step 4
Click "Uninstall." Do not place a check mark beside "Delete the Driver Software for this Device."
Step 5
Click "OK" to confirm and restart the computer.
Update Drivers
Step 1
Go back to the Device Manager as directed in "Reinstall Drivers."
Step 2
Right-click the SD card driver and select "Update Driver Software."
Step 3
Click "Search Automatically for Updated Driver Software." Your PC and the Internet will be searched for an updated driver.
Step 4
Click "Close" when the update is complete.
Things You'll Need
Rubbing alcohol

Cotton swabs
Tip
Prevent residue buildup by holding the card by the edges at all times. Never touch the gold colored contacts on the bottom.
If you have Vista, you may need to retrieve the latest service pack to fix this problem (see Resources.)