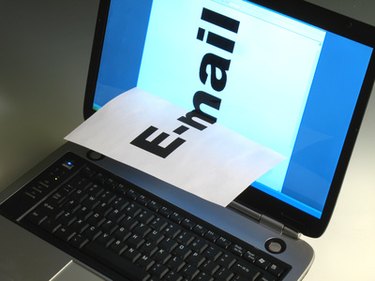 The practice of sending and receiving emails is more popular than ever. However, there are many people who still prefer to communicate with others by using regular mail sent by way of their hometown post office.
Speed
The greatest advantage of sending email is that it is much faster than writing a standard letter. Whereas regular mail can take from one to ten days to be delivered, email can be delivered within seconds (see reference, "The Advantages and Disadvantages of Email").
Flexibility
Although emails are very fast, they lack the flexibility of regular mail. You can send and receive packages, magazines, brochures and more via postal delivery but not by electronic mail.
Cost
Although you will normally spend under one dollar to send a letter by way of regular mail, you can transmit a letter via email at no cost other than that of your internet connection (see reference, "Advantages and Disadvantages of Email").
Multiple Recipients
If you send copies of letters to multiple recipients by regular mail, you will have to pay postage for each letter that you send. Preparing each letter for mailout can also be time-consuming. However, you can send letters to multiple email recipients within seconds by including their email addresses in the "To:" or "BCC:" boxes.
Safety
Computer viruses can sometimes be attached to unsolicited emails that you may receive. These can damage your hard drive and destroy your stored information. This poses no threat if you use regular mail.