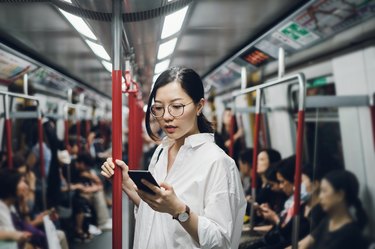 There are a number of ways to trace a phone number to figure out who it belongs to. You can use online reverse lookup directory sites or a physical book matching phone numbers to their owners, but cellphones are less likely to be in such directories than traditional landlines. You can also use traditional search engines and social media to look for websites and listings that have records related to a particular phone number. If you're receiving harassing or fraudulent phone calls, consider contacting authorities.
Useful Phone Tracker Directories
Traditionally, most people and businesses listed their phone numbers in printed phone books that were regularly distributed to telephone users by phone companies. Ordinary directories made it possible to look up a person or business and find associated phone numbers and addresses, while books called reverse phone directories or reverse lookup directories let users search by phone number or address and find associated people and businesses.
Since the rise of cellphones, fewer numbers are listed in these types of directories, but it's still worth searching the online equivalents of the old paper directories to see if a number is listed. Some popular websites for accessing reverse phone directories include Whitepages, Zabasearch and FreePhoneTracer. Generally, you can visit one of these sites and type in the phone number in which you're interested, including the area code, and see what results appear. International phone number lookup might work best with sites based in the same country as the phone number.
It's often worth searching more than one of these sites if you don't find the results you want right away since they may each have slightly different databases. Some sites may charge you for a search, but many make results available for free, so it's often worth it to exhaust your free options before trying paid possibilities to find phone number listings. You may still be able to find traditional print reverse phone directories at your local library, and a librarian may also be able to guide you to free resources or paid resources that you can access freely from the library or at home with a library card.
Keep in mind that results may not be completely accurate, so you may find inaccurate or out-of-date listings in such databases and directories. Also keep in mind that it's possible to spoof, or impersonate, caller ID information, so a number that appears on your phone may not actually be where the caller is calling from.
Check Search Engines
If you can't find a phone number in a phone directory, search for it online. You can type the number into popular search engines such as Google and Bing, trying different spacing and punctuation options between the area code and the rest of the number to make sure you find all relevant results. You might find personal websites or business websites associated with whoever owns the phone number or otherwise containing information about who owns it.
Also consider searching through social media sites such as Facebook or LinkedIn for information about the number. You might find a personal or business profile that directly lists the phone number or a page mentioning who owns it.
Handling Fraudulent and Harassing Calls
If you're receiving calls from someone who is harassing or threatening you, or calls that appear to be related to a phone scam, consider contacting your phone company or the authorities. Your phone company might be able to provide software or other options to block a particular caller, and police and other agencies can investigate who is responsible for illegal calls. They also may have more ways to trace an unwanted call than are available to you as a civilian.
The Federal Trade Commission can also handle reports of fraudulent calls.
In general, be wary of any unsolicited calls you receive and be skeptical of any requests for money or personal information.