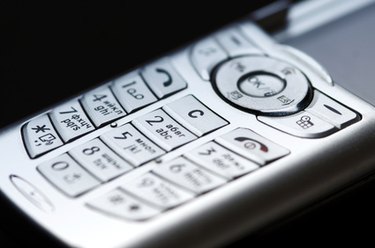 It is possible to send pictures stored on your Samsung mobile phone to your computer. You may have taken a picture on your phone that you want to share with others or use as a screen saver on your PC. You can only send one picture at a time by way of email. If you want to transfer more than one picture from your phone to your computer, you will have to repeat the process. Certain charges may apply depending on your cell phone plan.
Step 1
Press the "Menu" button on the Samsung phone to locate the pictures you want to send to your computer. This button is in the top middle of the phone's keypad.
Step 2
Select the folder where pictures are stored on your phone. Depending on the Samsung model you are using, pictures are either stored in the "Media Center" or "Get It Now" folder.
Step 3
Select the "Pictures" option and then "My Pictures" to access the photographs you have taken on your phone.
Step 4
Pick the image you want to send to your computer. Use the arrow buttons around the "OK" button on the phone's keypad to navigate through the "My Pictures" album. A picture is selected when there is a red or blue box around the photograph.
Step 5
Press the "Option" button on the keypad. This button is located on the top right-hand side of the keypad, directly underneath the screen.
Step 6
Select "Send" in the "Options" menu. This is the first choice within the menu.
Step 7
Enter the email address to which you want to send the picture using the keypad. You will then be able to retrieve the picture on the computer by logging in to your email account.
Step 8
Press "OK" to send the picture as an email. Repeat the process for each picture you want to send.