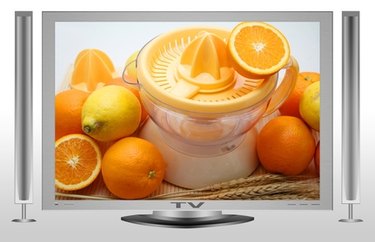 Settings Problems
If you have customized the picture and menu settings on your Samsung TV only to find that they keep reverting back to their default positions, this is because your unit is in what is referred to as "Shop Mode." This is the demonstration mode used by electronic retailers to show potential buyers all the features a Samsung television supports. Press the "Info" button on your remote control, and if under the "Picture Mode" heading it reads "Shop Mode," hold down the "Menu" button on the TV itself until the screen reads "Dynamic Mode." This has changed the picture mode to one of the pre-set positions. You may now change any settings you'd like.
Digital Audio
If you have a device plugged into your digital audio output on your TV but you cannot hear any sound, it is probably due to the output being disabled. When you plug a device into any of the HDMI outputs on the TV, the set automatically disables the digital audio output. Unfortunately there is nothing you can do to change this. You will need to plug the device you were trying to plug into the digital audio output into some other kind of available output, preferably HDMI for quality reasons.
Picture in Picture
If you are attempting to use the "Picture in Picture" feature on your Samsung TV only to find that it isn't working, it is because you have a digital cable service. Digital channels are unable to utilize the "Picture in Picture" feature due to the way the tuner on the inside of the TV is configured. Only analog television signals (either broadcast or basic cable) can utilize the "Picture in Picture" feature.